CHALLENGES IN ARCHITECTURE, URBAN DESIGN AND ART
7-8 June 2019 Conference
4-14 December 2019 Exhibition
University of Belgrade – Faculty of Architecture
Serbian Academy of Sciences and Arts, Gallery of Science and Technology
ONE THEORY OF BROKEN ARCHITECTURE
Vladimir Milenković
ABSTRACT
Broken architecture is fulfilling the aesthetical gap made by its intention to envelope life and intention to be enveloped by the same. The theory of curtain state can reach boundaries far beyond physical appearance touching fields of narratives, immaterial and surreal. It's altered (problematic, questionable) reflection to the rest of the world is the fountainhead of its designing values. Despite being contradict to its own reality, architecture of this characteristics cannot exist without clear conceptual constellation to the future of that world. Therefore this theoretical approach casts light on the practice which is being alive only by the continuity of the memories on its pre-shape aesthetical conditions.
By recalling the mannerist liberation from the rational plan we can still operate within ideas of Paladio's stylistic layering of the architectural plasticity (Villa Foscari) going further into the Tschumi's notion of the state of deconstruction (Villa Savoya) we are facing nowadays pure necessity to live the broken as a new form of architectural resistance.
Key words: mannerism, structural deconstruction, immateriality, surreal
Vladimir Milenković, KEYNOTER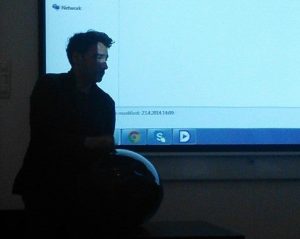 Vladimir Milenković, PhD Arch, architect and music pedagogue, educated in Belgrade (Faculty of Architecture / Faculty of Music Arts), associate professor at the Department of Architecture UBFA (courses: Design Methodology, Methodical Practicum, Design Studio, Master Project, Conceptual Architecture). His field of academic interest includes theory of form, methodology of design and he is also active in practice. He is the author of books Architectural Form and Multi-Function (Belgrade 2004: Andrejević Endowment) and Form Follows Theme (Belgrade 2015: Museum of Applied Arts & UBFA), floor installation wohnlich (Pavilion of the Republic of Serbia, Venice Biennale 2008), as well as academic exhibitions All Inclusive H2O Volos (MMCA Thessaloniki2012, CCS Paris 2012) and Almost Transparent Blue (MDW Fort St. Elmo, La Valletta, Malta 2014). Awarded on many architectural competitions as well as for built work (Textil Commercial Building, Užice, Mies van der Rohe Award 2009 nominee & Villa Pavlovic, Zlatibor, Mies van der Rohe Award 2019 nominee), currently working on RTS Memorial Sixteen with the kinetic structure, Tašmajdan Park, Belgrade. Co-founder of the studio NEOARHITEKTI.
www.neoarhitekti.net
www.miesarch.com/work/4156
vimeo.com/302293467