CHALLENGES IN ARCHITECTURE, URBAN DESIGN AND ART
7-8 June 2019 Conference
4-14 December 2019 Exhibition
University of Belgrade – Faculty of Architecture
Serbian Academy of Sciences and Arts, Gallery of Science and Technology
Architectures of the Emergent Real
Architectures between heaven and hell
Dr. Stahl Stenslie
ABSTRACT
Future fantasies from a blurry past are starting to emerge, leaking into our everyday lives in ways different from what we might want. It comes to little surprise that the impacts of digital technologies are starting to have real life consequences. Yet, our digital, next future is emerging as an Event Horizon from which there might be no escape.
So what are their impacts really about? How will they affect our lives, urban lifestyles, our homes, mobility patterns and society at large? Which societal processes will shape our new aesthetics, architectural tendencies and next functionalism? Which realities are emerging? Which consequences will they have? What are the emergencies in this Emergent Real?
These questions are pressing as the world tend to develop in ways unforeseen, even in ways impossible to foresee. For the digital paradigm shift in our everyday lives comes not alone, but in a great combo mixed in with with global warming, faltering ecologies, depleted resources, mass conflicts and mass migration. To mention a few of many dystopian parameters. But also the utopian aspects are massive.
Situated at the crossroads between speculative architectural psychology, somaesthetics and mentalism, the paper looks into how the new generation of Millenials produce their very own perception of space. They construct their lives increasingly in the virtual space of online, social media. These are representational spaces, but, put in the formula of Lefebvre, simultaneously lived and real spaces. This emergent real provides material to build new responsive and interactive architectures, heaven to some, hell to others.
Stahl Stenslie, KEYNOTER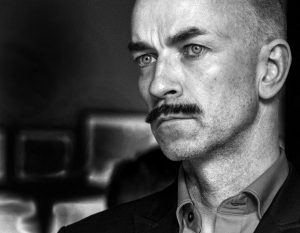 Artist, curator and researcher specializing in experimental and interactive spaces, embodied and disruptive technologies. He has a PhD from The Oslo School of Architecture and Design. Keywords of his practice are emerging architectures, somaesthetics, unstable media and transgressive aesthetics. He has been exhibiting and lecturing at major international events (ISEA, DEAF, Ars Electronica, SIGGRAPH) and moderated symposiums like Ars Electronica (Next Sex), ArcArt and Oslo Lux.
For nearly two decades Stahl has worked as professor of arts (Academy of Media Arts Cologne, Oslo National Academy of the Arts, Aalborg University). Currently he heads the R&D department at Arts for Young Audiences Norway.
Stahl has published widely on topics related to architecture, interactive spaces, arts and perception, co-founded The Journal of Somaesthetics (somaesthetics.aau.dk) and is the editor of EE – Experimental Emerging Art magazine (www.eejournal.no).